Workbenches
FrameXpert Frame Designer lets you design laboratory work benches, industrial workbenches, shop workbenches, computer workbenches, metal workbenches and rolling workbenches, amongst others, for free and then order . Using T-slotted aluminum frames, you can design a custom modular workbench that will not only ideally fit your application, it will also be rugged, lightweight, and extremely durable.
FrameXpert workbenches are superior to other alternatives for several reasons:
Expand your workbench at any time by adding more aluminum profiles to your design
Move the workbench between locations by quickly taking it apart and assembling it
Easy to clean
Structurally solid
Ideally flat surfaces
Perfect for trade shows and exhibits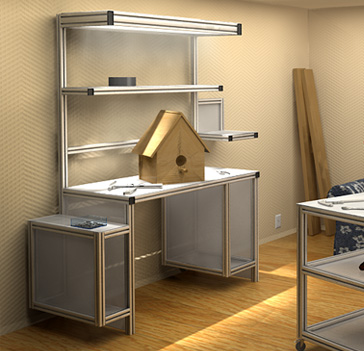 FrameXpert is also a great low-cost alternative to expensive custom workbenches. Use our software to design the bench that will suit your application and have it mailed to you within 24 hours!
Workbench designs
The sample designs in this gallery were created using our design software, FrameDesigner. Check out how easy it is to create and order any workbench design in less than 20 minutes!