Transport Carts
Add rollers to your FrameXpert design to build transport and work carts for labs, garages, and industrial settings. Design the ideal storage cart in FrameDesigner in a matter of minutes, add tool storage, a dangerous chemicals cabinet, or any other needed compartments and get it shipped next day with easy to read assembly instructions. If ever you decide that your cart is getting too small, simply expand it by changing a few of the aluminum profiles.
FrameXpert transport carts are superior to plastic and metal carts for several reasons:
Rugged design
Ability to accomodate extremely heavy loads
Extemely lightweight
Easy to transport
Easy to clean
Expandable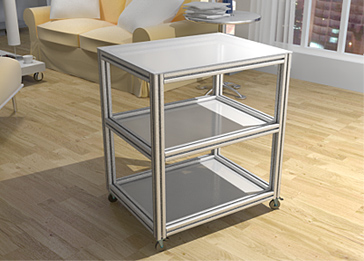 Whether you are building an equipment cart for a sports team or a motor transport cart for the shop, FrameXpert carts will outlast any other metal or plastic alternatives.
Transport cart designs
The sample designs in this gallery were created using our design software, FrameDesigner. Check out how easy it is to create and order any transport cart design in less than 20 minutes!